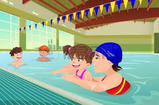 I'm a lifelong, avid swimmer, so of course my 4-year-old daughter is afraid of the water. That's how it works, right?
Lula tolerates swim lessons, but doesn't really enjoy them. Children far younger than her gleefully leap in the water, scaring the bejesus out of their parents. My kid stands on the side, whining for me to holding both her hands while she jumps and demanding promises that her face won't get wet.
Yes, it's a little frustrating, but it's OK with me. Swimming is my thing. It doesn't need to be her thing, too. When she wants to put her face in, she will.
A few months ago, something happened during her swimming lesson that shocked me, and it taught me some things about leadership. As I watched from the other side of the pool, one of the teachers took Lula into her arms and bounced her up once, up twice and then, with no warning, dunked her fully under water.
I gasped.

Lula's bewildered little face reappeared a second later, and she burst into terrified, outraged tears. I waited, watching her like a hawk, poised to run over there if needed. The other teacher, let's call her the "nice one," took Lula in her arms and held her for a long time, speaking softly into her ear, until she was calm. They rejoined the other kids and resumed the lesson. Soon, the class ended, and students and teachers scattered to the wind.
We talked about it during the week that followed. I told her that what the teacher had done wasn't OK and that we were going to say something to, let's call her Ms. Dunker, to ask her not to do that again. Lula felt nervous and didn't want to. I told her I was a little nervous, too, but that wasn't really true.
I wasn't a little nervous: I felt full-blown afraid. (
I also resented Ms. Dunker for putting me in this uncomfortable situation.)
Conflict, or even the potential of it, scares me. I'm naturally accommodating and easy going. (My "F" score is off the charts on the Myers-Briggs Type Indicator.) I avoid confrontation more often than I'd care to admit.
Conflict also fogs up my thinking. I'm a little embarrassed to admit it, but sometimes during a disagreement I start doubting the validity of my position and genuinely believing the other person has a better point.
The whole thing just unnerves me.
These are some of the particular thoughts I had:
"She might be mean to us, and I won't know how to handle it."
"She'll be better at confrontation than I am, and I'll look nervous and unsure."
"She'll say something that turns it around and makes me believe I'm in the wrong."
"I don't want to antagonize her. What if she's mean to Lula for the rest of the class term?"
The next week, Lula and I together asked Ms. Dunker not to dunk Lula under the water if she didn't want to and certainly not without warning. She said "OK." and seemed totally nonplussed by the whole thing. Lula sat down with the other kids, and their lesson unfolded normally.
What does this have to do with leadership? Five things:
1.
Conflict is a part of every work place.
Whether it's an honest misunderstanding or intentional undermining, confrontation is going to be necessary in our work lives. Period. Let's get over the fact that we
shouldn't have to
do it. Let's just learn how to do it well.
2.
I
t's important to set an example.
I hesitate to use parenting as an analogy for leadership. I know it's patronizing, but there are some similarities. Our staff are less experienced than we are. They're watching us in action every day, learning from us what it means to be a good leader. Let's stay aware that we're modeling behavior to those around us.
3. I
t's important for us to get used to what assertiveness
feels
like.
It didn't matter what Ms. Dunker responded to our assertive request. That wasn't really the point. The important thing was for Lula and me to feel that rush of adrenaline we get when we stick up for ourselves and do something scary but meaningful.
4.
The first steps of anything, including confrontation, are shaky
. Lula didn't execute her assertiveness perfectly, and neither did I. The teacher could barely hear what Lula said, and I was unsure what facial expression was appropriate, so I think I looked kind of weird. Who cares? We did it! And the more we do it, the more comfortable it will become.
5.
There are consequence either way.
"What if she's mean to Lula for the rest of the class term?" This is a sneaky one. This was my mind trying to find a logical excuse to not do what I need to but am scared of doing. The truth is that NOT confronting a situation has consequences, too, such as the continuation of the very thing we don't like and feelings of shame and disempowerment.
So in the end, Ms. Dunker, bless her heart, taught me some important lessons that I can put to practical use in my work and my life in general.
What about you? What situation have you addressed assertively even though you were really nervous? What confrontation are you currently putting off, because you're too nervous? What kind scary actions have you taken that made you want to give yourself a high-five?
Please share!
Your partner on the journey into excellence,
Mara